The Board and Team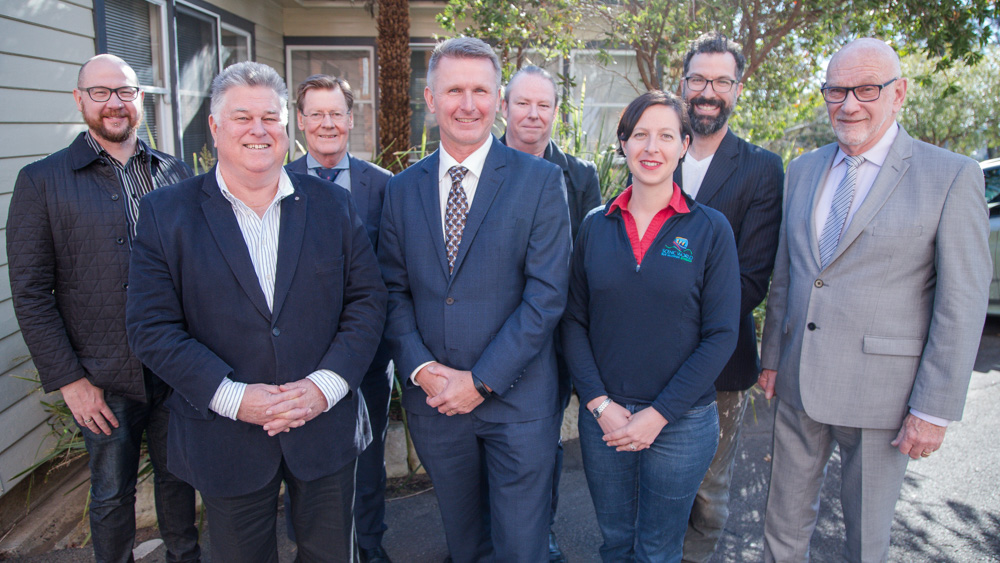 The Board
Donald Luscombe AFSM FCA
(Chairman)
Don is a practising Chartered Accountant with 40 years' experience in public accounting. He is currently the Chair of Blue Mountains Disability Services Limited, a Director and Treasurer of Biznet, a Director of Coffee 4 kids Foundation, a Director of the Rural Fire Fighters Foundation and a past President of the NSW Rural Fire Service Association.  Don has broad experience in advising business as well as a depth of experience as a board member and Chair.
Michael Brischetto
(Deputy Chairman)
Michael is the co-owner and licensee of the Carrington Hotel in Katoomba. Michael has an extensive background in property and real estate. He is a former Director of the Blue Mountains, Lithgow and Oberon Tourism Organisation and former President of the Winter Magic Festival.
Dave Garner
Dave Garner is the Business Manager for Penrith Performing and Visual Arts Ltd who manage the Joan Sutherland Performing Arts Centre, Penrith Regional Gallery, Q Theatre and the Penrith Conservatorium of Music. Dave's career has spanned Business Development to the Music and Pharmacy retail industries, management consultancy across multiple industries and retail multi-site management in the FMCG and Financial Services industries. His community volunteer work covers sport, business, music and performing arts.
Robert Greenwood
Robert Greenwood has held the position of General Manager of Blue Mountains City Council for 3 years. Prior to his current role, he held Director roles in Strategic City Planning, Development Planning and Environmental Health and Regulations.
Kym Scanlon
(absent from photo)
Kym has worked as Director, Planning for Nepean Blue Mountains Local Health District for the past 10 years. Before this, she worked in the NSW Department of Health for 13 years in diverse roles, largely involving the management of significant statewide health programs. Kym has been a resident of the Blue Mountains for the past 20 years.
Grant Young
Grant is a Katoomba-based entrepreneur and consultant.  Through his consulting practice, Zumio, Grant applies his background in strategic design, sustainability, social network engagement and web application development to support for-purpose organisations in achieving their goals.  He has a particular passion for projects that connect the digital and physical environment to encourage smarter consumption.  Prior to launching Zumio, Grant led the IDX Initiative, a partnership between the Telstra Foundation and the National Centre of Indigenous Excellence, to design and deliver "digital making" learning experiences, a digital entrepreneurship incubator, and an innovation and workshopping space.
Anthea Hammon
Anthea Hammon is the Managing Director of Scenic World in Katoomba. Anthea has a background in mechanical engineering, and over 10 years' experience in leading the most visited, privately owned attraction in Australia. She is also a director of the Australian Amusement Leisure and Recreation Association and the Chair of the committee that develops Australian Standards for Amusement Rides.
Cr Darryl Bowling
Darryl  Bowling lives at Glenbrook. He is semi-retired with a background in the computing industry and business management. He spent 19 years working in Foreign Affairs.
The Team
Bernard Fehon
(Chief Executive Officer)
Bernard Fehon is CEO of Fehon Strategy and Design an innovative management consultancy.   For more than a decade, Bernard operated his Financial Planning practice, Tactical Solutions and in 2014 merged this practice with Invest Blue.  Bernie joined AMP in May, 2000 after a successful career in Manufacturing and Design. With Qualifications in Mechanical Engineering, Industrial Design and Financial Planning, Bernie has a broad range of skills and experience and naturally brings a design thinking approach to strategy development.
Bernie conceived the The Vinnies CEO Sleepout in February 2006 and with a small team held the first event in June 2006.  Bernie has worked with the St Vincent de Paul Society to develop the event nationally and it has since raised over $30 million.  The event has been emulated in several countries and Bernie now leads the CEO Sleepout Global Alliance to encourage the concepts growth around the world.  Through this alliance, Bernie is developing an international network of CEOs who care.
Ann Niddrie 
(Creative Industries Cluster Manager)
Ann Niddrie is the Creative Industries Cluster Manager at Blue Mountains Economic Enterprise (BMEE). Ann has more than 13 years' creative industries experience, and has a great reputation in the Blue Mountains community. She brings a wealth of experience to the role, and as the Cluster Manager Ann facilitates new creative business partnerships and productions, help new businesses establish themselves and existing businesses flourish.
"I'm excited to bring all of my experience to contribute to the Blue Mountains community and the local creative industries."
Cassie Elliott
(Economic Development Officer)
Cassie brings extensive skills in administration and project management to Blue Mountains Economic Enterprise. Prior to commencing her position with BMEE, Cassie was Administration Manager at the Mt Hotham Resort and Festival Coordinator of the 'Cool Summer Festival', Cassie played a strong role in developing the Victorian Alps as a viable year-round destination for visitors, local producers and local business operators. Cassie has worked across both government and corporate sectors in her career.
Wendy Sawkins
(Administration / Project Coordinator)